The crowning glory of this weeks' Cinco de Mayo preparations (and celebrations) is this party. I brought together all the elements I've been sharing all week, and now we get to party! If you're not going to – or hosting – a Cinco de Mayo Party you need to re-evaluate your friendship circle because DAYUM.
also, a quick side note, Cinco de Mayo is not really a thing in Mexico. It's technically the celebratory commemoration of a military victory over the french. It's mainly a north american construct aka an excuse for a party, and I'm OK with that. I just wanted to contextualize it for you in case you were unsure.
Grab my DIY Bougie Pinata tutorial // my DIY Ombre Margarita Glasses // and my Cinco de Mayo Party Box 
Those are all Cinco de Mayo Party essentials – so if you haven't been following along week, you better step-up your game! While you're at it, grab my recipe for my spicy pomegranate margarita .
FULL SHOPABLE LIST AT THE BOTTOM
To put my Cinco de Mayo Party together, I essentially put everything in the party box, and then un-loaded it when I was ready to set-up. I am so happy with the explosion of colour and texture. Between all the cute mini party favors from Lula Floral Designs, and everything I handmade, you won't find a more authentic party than this! *except maybe with actual Mexican food.
The tablescape is full of bright and colourful blooms, and some very simple apps aka chips and salsa. Because if this was the actual night of, I'd have made a reservation at the place in town #Iknowmystrengths #andmyweaknesses
In case you had any doubts about my DIY Ombre Margarita Glasses, as you can see they are indeed fabulous, and exactly what this party called for.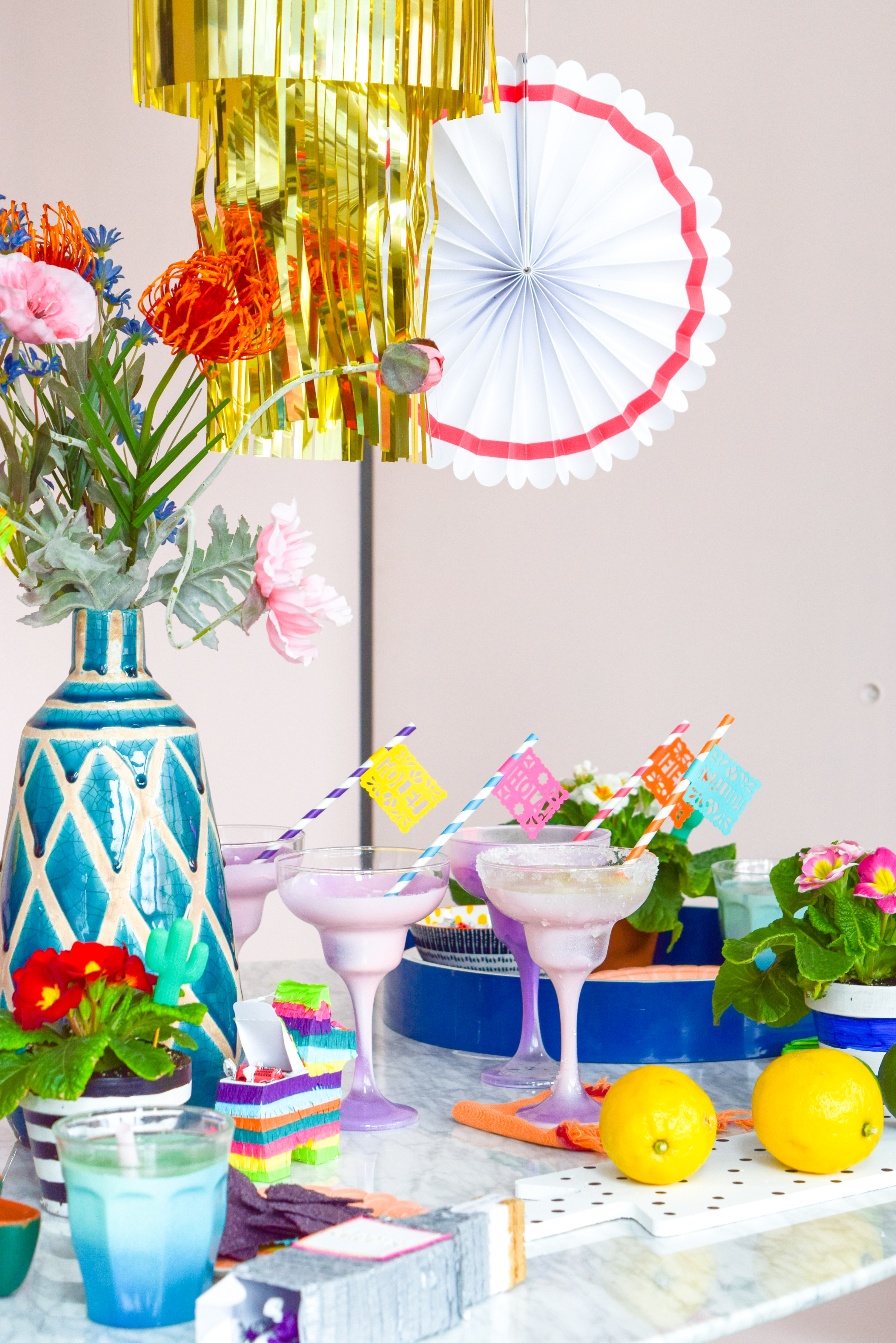 Honestly, between the mini pinatas and Miss. Vanjie my DIY Bougie Pinata, I'm not sure what I love more! Please let me know which ones you prefer in the comments below. Or don't, it's really up to you.
The flower plates with leaf napkins is pretty much the greatest combo ever, and I am so surprised that no one else thought of it first. I snagged the set at Homesense and am loving how they look at the Party. You may also recognize my Color Blocked Planters, that's a DIY that keeps on giving.
Shopable list for your Cinco de Mayo Party
Tinsel Chandelier from the Martha Stewart Collection at Michaels