You know that with all the kitchen renovations under way, that we've got our new sink + faucet in place now. What you don't know, is much about them! We chose an IKON 33 Apron Silgranit sink from Blanco, and are so so so pleased with our choice. Here's why…
*Blanco sponsored this post, but all thoughts are my own. Thank you for supporting the brands that make PMQ for two possible.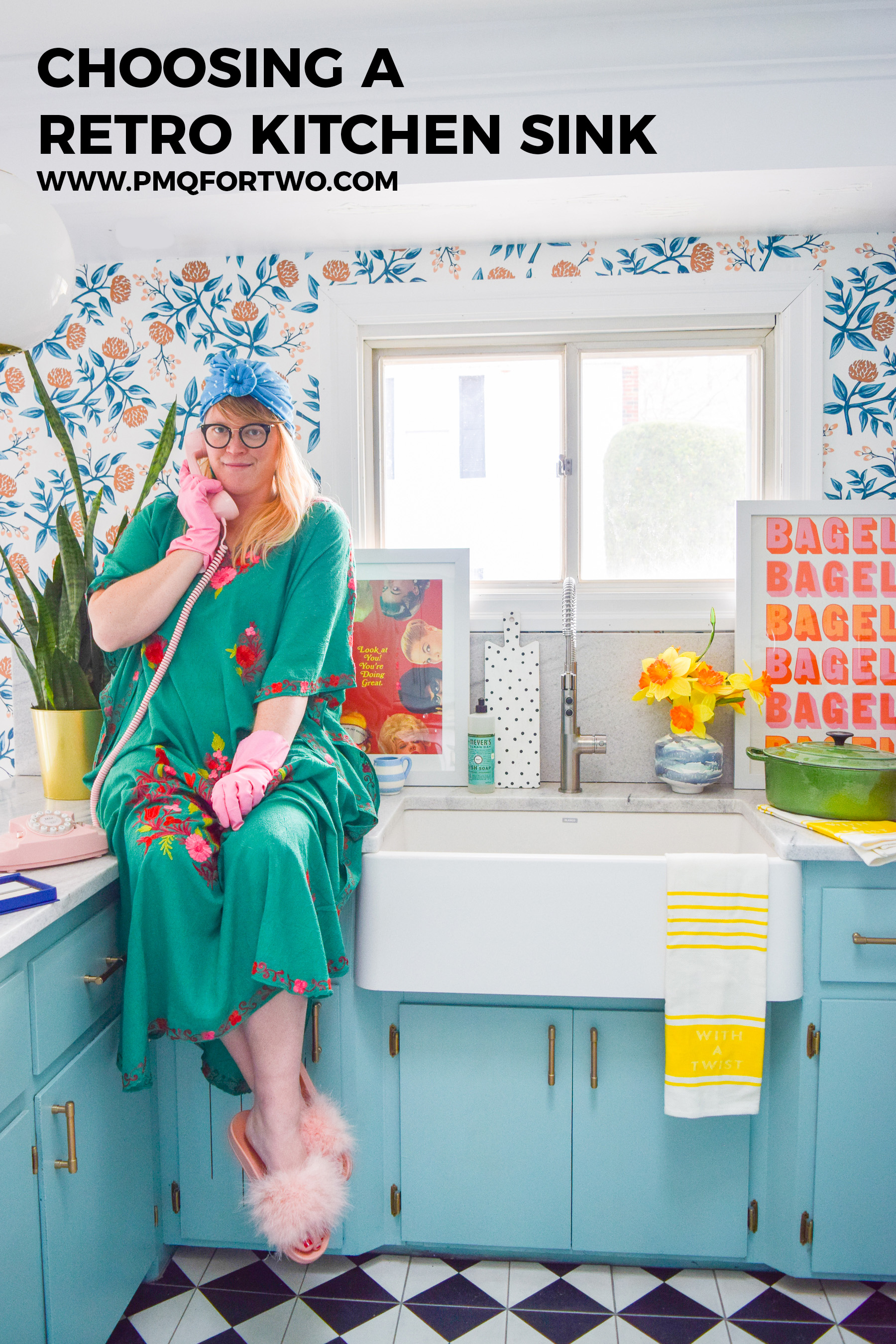 Apron Sinks in Retro Kitchens
So for starters, let's talk about the fact that we went with an Apron sink in our retro glam kitchen. We could have hidden it, chosen a double sink, or made any other number of choices, but ultimately we wanted the form and function that an apron sink provides, especially for a Mid Century home like ours.
p.s while the kitchen looks complete, we still have a few days to add finishing touches before the ORC reveal, like the lights on the bulkhead above.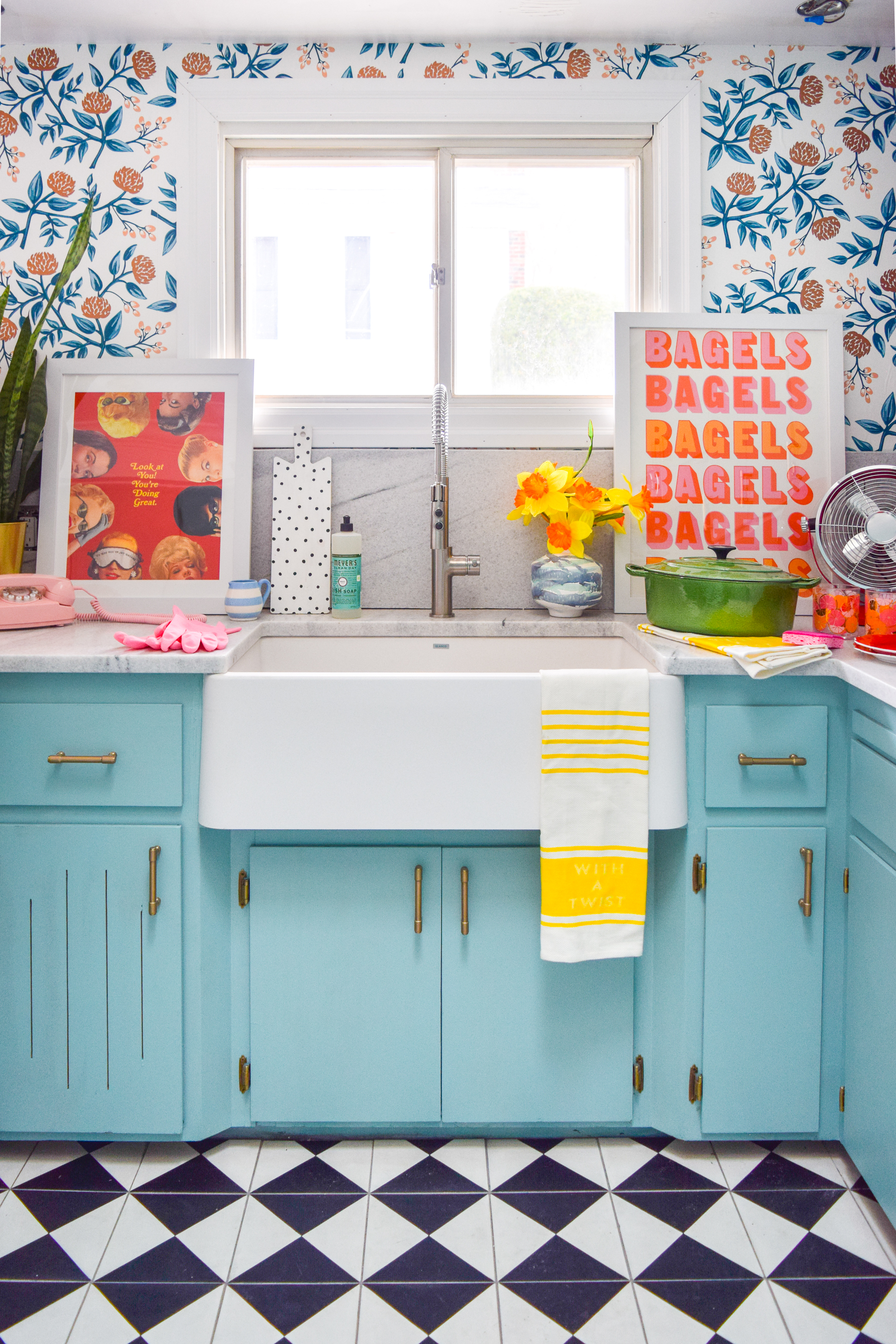 You'll see lots of apron sinks in the pink and baby blue kitchens of the past, usually with a great big basin, perfect for concealing the mess, and even more perfect for bathing a chubby baby. It was a classic look, and one we won't soon regret.
Catch the details of our retro kitchen floor tile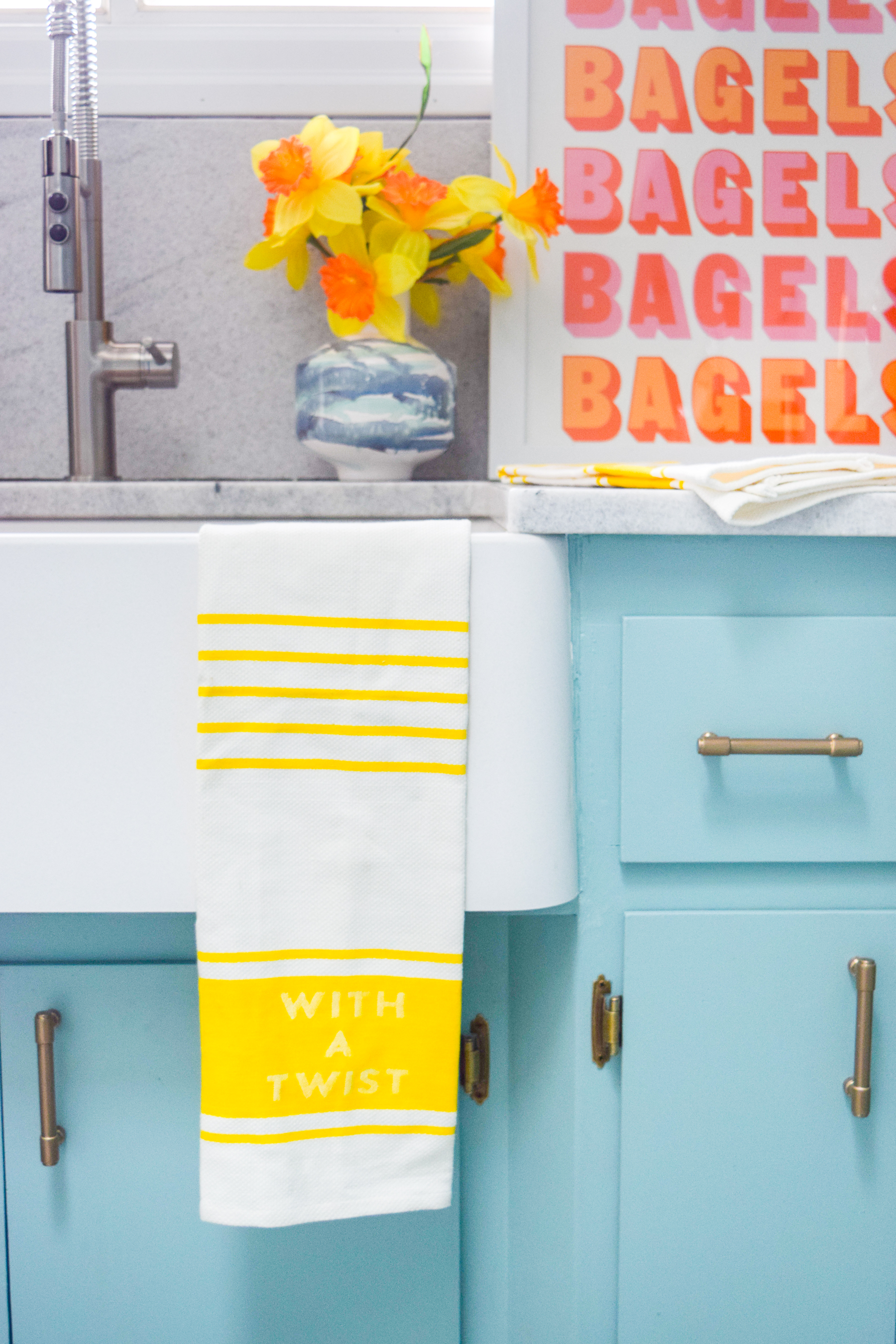 The IKON 33 Sink Capacity
OK, so legitimately, is sink capacity something you think of? I do! And only because we've lived in some weird rentals and lots of PMQs. We haven't always had a good sink capacity, and it made our lives that much more complicated.
This bad boy can hold quite a bit of water, and more importantly up to 300lbs of dirty dishes (or like 6 Bruces). I wanted to test this out, so I started filling the sink with dishes and was pleasantly surprised by how much it held discreetly. The sink is obviously not full here, but it holds a meal's worth of dishes effortlessly.
From the right angle, you wouldn't even know there were things in there. Most importantly, neither would your guests.
Silgranit for a Sink
This is a new material for us. We had never worked with it before, but we were definitely drawn to the characteristics it offers:
Made in Canada
Natural granite composite material
Exceptional resistance to heat, scratches and impact
Repellent material – does not absorb any liquids acids or stains; non-porous surface
Hygienic+Plus surface – protects against bacteria
Given that our countertops are marble, it means that we have to be a bit more careful about a lot of the above items, so if we can safely place dirty dishes, pots, pans and more into the sink, it saves us the hassle of trying to protect our counters during a moment of inattention. Ya know?
Check out our retro kitchen decor details
They offer the Silgranit sinks in a variety of colours, and styles – all amazing in their own ways – and after receiving a colour palette in the mail, I was able to pick White, knowing it was exactly what we wanted (even though we did consider the black for a hot minute).
Picking a Kitchen Sink Faucet
Choosing the retro kitchen sink was easy, but choosing a faucet seemed to take more time. We went back and forth between a few of them, and then on the finish. Stainless Steel? Chrome? What to choose!
Ultimately we chose the Catris faucet from Blanco, because of the functionality it would offer. It also only required one hole be cut in our templating process, and I'm all about that. Less nooks and crannies to clean later on!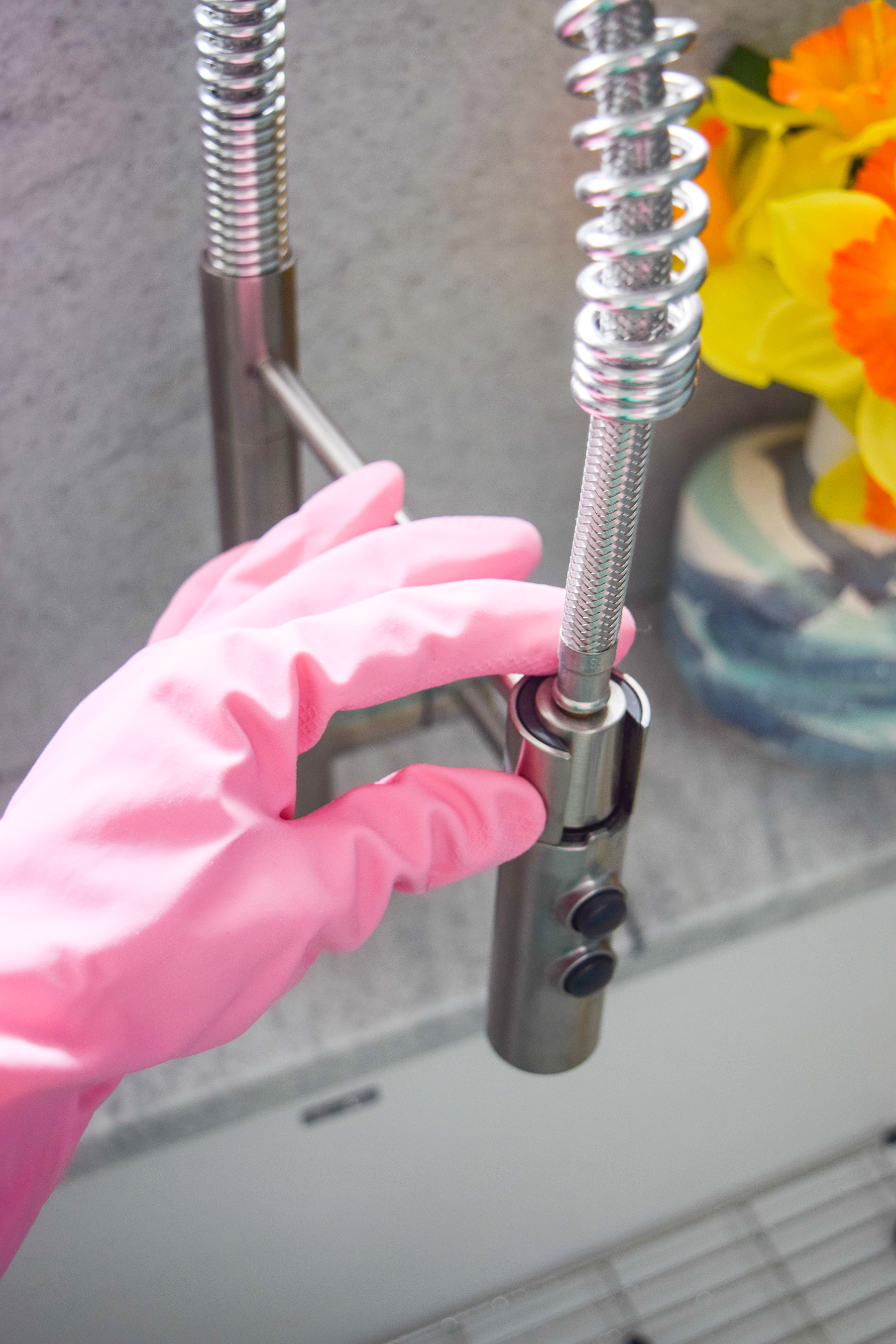 The Catris faucet is great for us for a few reasons:
The 360° swivel provides extended range so you can get things in the corners.
An Insulated hand spray with dual selectable spray patterns, so if you need a jet of water you've got it! and without scalding your hand when you've got the faucet cranked towards the hot.
The flexible spring provides optimal range of motion, which is going to be perfect for cleaning all our fancy stuff, and bathing our little baby.
I also just like the way it looks. Can't go wrong with that eh?
Installing your Silgranit IKON 33 Apron Sink
So this part depends a lot on the type of counter you're using, and the reveal you want on the sink. Blanco handily provides info on a few technical points, but it ultimately comes down to your counters & cupboards.
Because we chose an apron sink, by definition it's undermount, which means it gets attached to the countertops at installation. But since it's a tapered apron sink, we also had to customize the cabinet fronts to fit the angle of the apron design. It's slightly wider at the bottom if looking at it from the front, which actually adds a nice architectural element.
We also have to brace the sink from beneath, since when full it can weigh up to 300lbs, and that's not going to hold if it's just hanging from the counters with adhesive and silicone.
Dan built a handy little shelf and made sure to cut a hole for the drain and plumbing. You can see here, that the whole situation beneath looks like it was built this way, and there are no bizzare set-ups holding it in place. The best part, you can DIY it!
Enjoying your Retro Kitchen Sink
Now that the kitchen is almost all installed and complete,  we've started using the sink and stove, so naturally there are dishes and excuses for a silly photoshoot.
Don't you do your dishes in a glam caftan, with a turban, marabou house shoes, and pink dish gloves? I do.
Make sure you tune in next week to see the full kitchen reveal, including more shots of the kitchen sink area!
Shop the Retro Kitchen sink