Good tidings and cheer to you all! I'm feeling a touch more rested after a couple of days with family… but then I got the stomach flu and am only now walking around. Good thing too! Just in time for the new year I'm sharing a fun craft that will make for a great hostess gift, or will help you create champagne glam at home or wherever you chose to ring-in the new year.
Although not a new take on New Years glam, the glitter covered champagne bottle is fun way to jazz up any old bottle of bubbly. Using four items you can create your own champagne glam.
Materials
Mode Podge
Glitter
Bottle of bubbly
Paint brush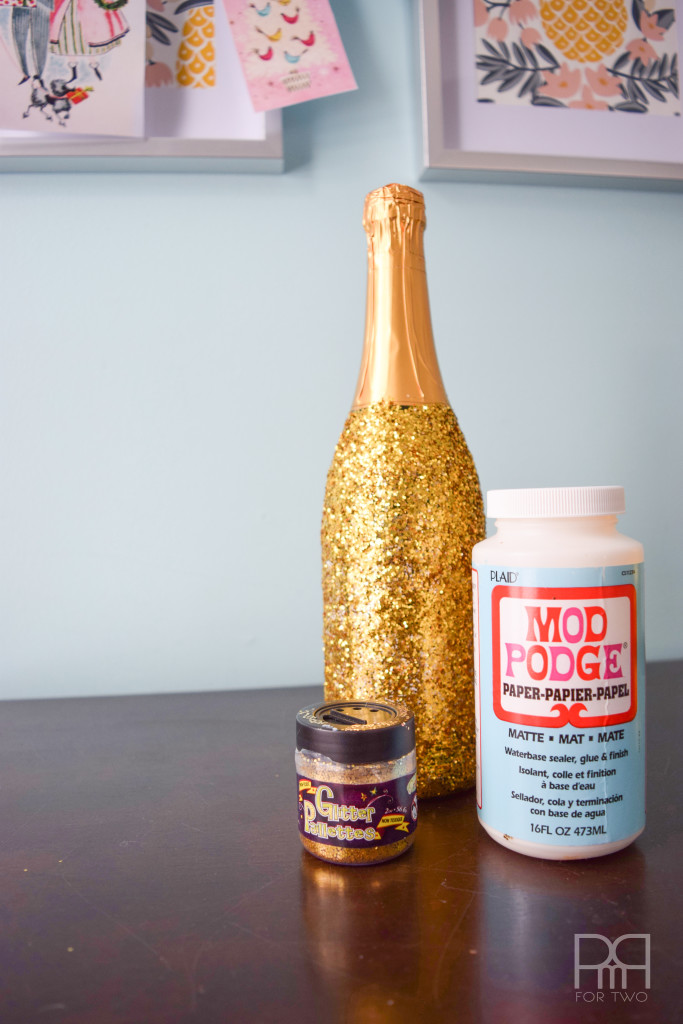 Directions
Step 1: Clean and dry the bottle you'll be coating.
Step 2: Using a paint brush, coat the bottle in mode podge evenly and quickly.
Step 3: Roll the bottle in glitter from head to toe. You'll get pretty good coverage if you dump a bottle of glitter on some wax paper and then roll it on there. You will have to use your hands to help sprinkle the glitter on those hard-to-coat places, but that's all part of the game.
Step 4: Let dry.
Step 5: Gift or chill and enjoy!
P.s aren't those champagne coupes perfect for this? I used them in my holiday cocktail post, in case you missed it.
You know what goes well with bubbly? A banner of course! Don't forget about the POP FIZZ CLINK banner from Studio Pep that we gave away earlier this year.
That's all for now folks! Watch for my "year in review post" on January 1st. Just a heads-up, PMQ for two will be on a posting hiatus from January 1st to about the 15th while I recharge my batteries, do some business stuff, and update things on my back-end. I'll be posting and updating from Facebook, Instagram and Snapchat (PMQfortwo), so follow me on there!
Live boldly and drink the good stuff.